Dinosaur Accoutrements: What Good Were They?

Ever wond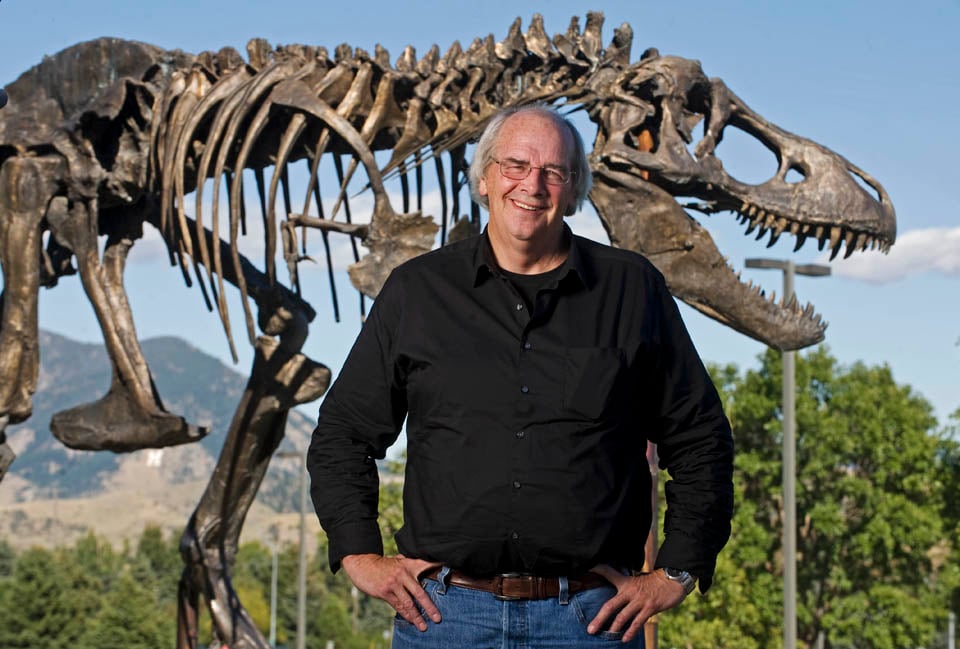 er what good dinosaur accoutrements were or why they matter? You have a chance to find out on Thursday, May 28, 7:00 pm at the Great Falls Public Library. The library is hosting Jack Horner, the world-renowned paleontologist, who helped create dinosaurs for the film Jurassic Park. Montana born and raised, Horner is best known for his work on the cutting edge of dinosaur growth research.
Horner has authored numerous professional papers and six popular books. Currently, he is the Curator of Paleontology at the Museum of the Rockies, the Regent's Professor of Paleontology, adjunct curator at the National Museum of Natural History, and teaches with the Honors Program at MSU in Bozeman.
Much of Horner's current work in recreating a dinosaur has the potential to lead to new treatments for people suffering from spinal disorders and human sarcomas. George Lucas has been one sponsor for much of this current research.
Along with his valuable research and scientific discoveries, Horner is known to be an engaging speaker who makes science both accessible and fun for the layman. This program is free and open to the public.
---
Friends of the Great Falls Public Library Book Sale
In preparation for the Friends of the Great Falls Public Library annual spring book sale, which takes place in May, they are now accepting donations. Donations may be brought into the library at any time during library hours. The group is also holding Donation Days to accommodate larger donations and/or to provide assistance with donations. If you choose to bring your items in on these days, you go to the alley entrance of the library.
The Donation Day schedule is as follows:
Saturday, January 31 10 am – 2 pm
Saturday, February 28 10 am – 2 pm
Saturday, March 28 10 am – 2 pm
Saturday, April 25 10 am – 2 pm
All donations are appreciated, but the following will not be accepted:
Magazines
Text Books
Encyclopedias
Condensed Reader's Digests
VHS Tapes
Audio Cassettes
Items in Poor Condition
For more information call 453-0349.

---
Foreign and Independent Film Series
The Great Falls Public Library's Foreign and Independent Film Series continues on Wednesday, April 1 at 7:00 pm. and Saturday, April 4, at 2:00 pm. This series is free and open to the public.
April's selection is the . This film tells the story of Gaby, who manages the family farm on his own despite advancing age. With his two grown daughters living in the city, he spends most of his time alone. When his eldest daughter appears to share the news she's getting divorced and desperately needs money, Gaby's life begins to unravel. In an effort to tend to his children he'll be forced to make sacrifices he never intended for the sake of those closest to him. This film is in French with English subtitles.
Films will be shown each month on the first Wednesday and the following Saturday. The series, which runs September through May, is free and open to the public. Be forewarned, some films may contain strong language or adult situations. They are not rated by MPAA but in our brochures we have tried to indicate content. Brochures are available at the library.
The selected short is The Giant.
---
The OpenBooks Discussion Series, which runs October – May, continues on Thursday, April 2, at 7:00 pm, in the Montana Room of the library. These discussions, sponsored by the Great Falls Public Library Foundation, are free and open to the public. You may attend any and all of the discussions. Books are available at the library three weeks prior to each meeting. You will need a library card to check a book out whether you attend the discussion or just read the book. Discussions are facilitated by Penny Hughes-Briant, a former teacher at UGF. For more information on this series call 453-0349.
April's selection is
Fobbit by Montana author David Abrams
. A retired army journalist Abrams
tackles many of the Iraq War's absurd contradictions. He accurately reflects the Iraq War's humor, bitterness and disarray - this is not simply a "war novel," but an "Iraq" novel, clearly representing the place and time. You'll laugh because it's funny; you should weep because it's true.
Page Forward Saturdays
will discuss
Indian Creek Chronicles by Pete Fromm on Saturday, April 11, 10 a.m.
This group meets on the second Saturday of each month year-round. It features books by Montana authors or about Montana. This selection is the first work written by Fromm, telling the story of
seven winter months spent alone in a tent in Idaho guarding salmon eggs and coming face to face with the blunt realities of life as a contemporary mountain man. A gripping story of adventure and a modern-day Walden, this contemporary classic established Fromm as one of the West's premier voices.
Page Forward Tuesdays will discuss Nicholas Nickelby by Charles Dickens on Tuesday, April 28, 7:00 p.m. It meets the fourth Tuesday of each month at 7:00 p.m. It offers "fiction for fun" reads. This month's selection was hailed as a comic triumph and firmly established Dickens as a 'literary gentleman'. It has a full supporting cast of delectable characters and includes the typically Dickensian elements of burlesque and farce. Nicholas Nickleby is widely regarded as one of the greatest comic masterpieces of nineteenth-century literature.
---
---
Explore, Discover, Connect:
An Evening of TED Talks and Lively Discussion
TEDxGreatFallsLibrary continues on Tuesday April 21, 7:00 pm. This program is free and open to the public.
TED is a nonprofit devoted to Ideas Worth Spreading. It started out in 1984 as a conference
bringing together people from three worlds: Technology, Entertainment, Design. TED has created a program called TEDx. TEDx is a program of local, self-organized events that bring people together to share a TED-like experience. TEDxGreatFallsLibrary is an independently organized event licensed by TED. This event continues on the third Tuesday of each month. Each month we will show several TED Talks videos featuring experts in their fields sharing cutting edge ideas, innovation, and progressive ways of applying expertise for the betterment of society. A lively discussion will follow.
April's selections are:
How childhood trauma affects health across a lifetime by Nadine Burke Harris
What we learn before we are born by Annie Murphy Paul
What makes us get sick? Look upstream. by Rishi Manchanda
The linguistic genius of babies by Patricia Kuhl