Reader's Corner
Check out our Pinterest Page!
---
Page Forward
The Page Forward book discussion groups introduced by the Great Falls Public Library this year continue in November.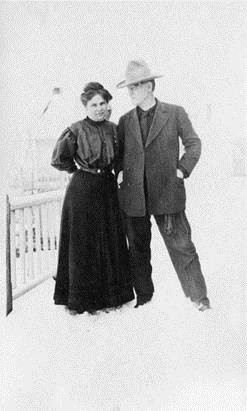 Page Forward Saturdays continues on Saturday, November 8, 10 am, and continues on the second Saturday of eachmonth. This discussion group is unique in as much as each month's discussion will be a celebration of the 100th anniversary of women's suffrage in Montana and will focus on books written by and about Montana women.
November's selection is Behind Every Man: The Story of Nancy Cooper Russell by Joan Stauffer. After Nancy Cooper married Charlie Russell in 1895, she helped turn a journeyman cowboy and ranch hand who sketched and sculpted in his spare time into a full-time artist who sold and exhibited all over the globe. In Behind Every Man: The Story of Nancy Cooper Russell, Joan Stauffer offers the first biography of the person whom Charles Russell called "the best booster and pardner a man ever had." Stauffer's portrait, evoked in the voice of its subject and based on a decade of research, offers readers both a complete life story of Nancy Russell and creative insight into her thoughts and feelings.
Stauffer reveals that Nancy and Charles's union created a practical synergy. Always an advocate for her husband, a steward of his art, and a liaison to his admirers and critics, Nancy's greatest contribution may have been the inspiration she provided Charles. "I done my best work for her," the cowboy artist once remarked.
Page Forward Tuesdays continues on Tuesday, November 25, 7:00 pm, and continues on the fourth Tuesday of each month. November's selection is the New York Times bestseller Defending Jacob by William Landay. It tells the story of Andy Barber, who has been an assistant district attorney for two decades. He is respected in his professional life and happy in his personal life with his wife, Laurie, and their teenage son, Jacob.

Andy's life is shattered by a shocking crime: a young boy stabbed to death with the accused is Andy's own son, Jacob. Despite damning evidence and mounting pressure, included a faltering marriage, Andy believes in Jacob's innocence. Any parent would.
It is the ultimate test for any parent: How far would you go to protect your child? It is a test of devotion. A test of how well a parent can know a child. For Andy Barber, a man with an iron will and a dark secret, it is a test of guilt and innocence in the deepest sense.

---
"A Library is a hospital for the mind."
Anonymous
"Anyone who says they have only one life to live must not know how to read a book."
Author unknown
"All the truth in the world is held in stories, you know."
Wise Man's Fear by Patrick Rothfuss
"The world is made of stories, not of atoms."
Muriel Rukeyser
"If history were taught in the form of stories, it would never be forgotten."
Rudyard Kipling
Let the Great Falls Public Library help you find your story!